Welcome from the Headteacher
Welcome to Hawes Down Primary School. We are a two-form entry school, situated in spacious grounds with an Additional Resource Provision [ARPS] for pupils with severe and complex communication needs. Hawes Down is part of the family of schools that make up IMPACT Multi Academy Trust.
I am very proud to be part of this vibrant, happy and caring school where children are firmly at the heart of everything we do. We pride ourselves on making this an inclusive school with a strong community feel. We have a dedicated and committed team of teachers, support staff and governors. An important part of our ethos is to value the partnership we have with parents, as we know that working closely together helps your child to benefit fully from school.
Our mission is to create a school where our pupils flourish and are proud of their achievements through our curriculum and through the extensive enrichment opportunities we provide. We aim to instil in them a passion for learning that will empower them to become successful and to make positive contributions to the local community and beyond.
Above all, it is a privilege to be surrounded by enthusiastic, enquiring pupils who, every day, embrace the school values:
Achievement Bravery Compassion
Our website will give you a flavour of Hawes Down Primary School, but the best thing is to come and see our school in action for yourself. We look forward to meeting you.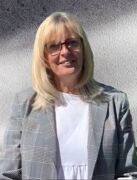 Helen Bretherick
Headteacher