Curriculum Overview
At Hawes Down Primary School we have developed a process of implementing our Curriculum Intent to ensure our children 'remember' all the knowledge and vocabulary taught through the experiences they have.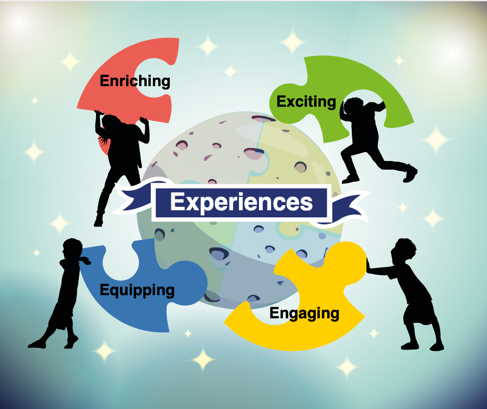 What is the Hawes Down Way?
Our curriculum mission is to provide:
ENRICHING EXCITING ENGAGING EQUIPPING EXPERIENCES
Enriching experiences that happen inside and outside the classroom, having access to a range of extra curriculum opportunities and embedding a philosophy for learning,
Exciting experiences with the delivery of lessons that are accessible to all, fun, lively and creative,
Engaging experiences that are impactful, interesting, imaginative which value breadth of learning across all areas.
Equipping experiences that secure children with the knowledge, skills, vocabulary and interpersonal qualities to successfully, resiliently and confidently take on all the learning challenges without fear when moving on to the next stage of their schooling life.
This is referred to as the "5 E curriculum" within Hawes Down Primary School.
Curriculum Philosophy
We have reviewed the planning, progression and provision in all subject areas, over the course of Summer Term in 2019, and rewritten these over the Autumn Term 2019. Our 5 E curriculum is underpinned by the Foundation Stage Curriculum in EYFS and National Curriculum in Key Stages 1 and 2. It addresses the National progression expectations from these documents, as well as incorporating the Langley Park Learning Trust key milestones for the end of each phase of learning. Through a process of collaboration between the staff and pupils we believe we have sought to provide a curriculum that intends to be relevant to children in our locality, one which values inside and outside learning as well as one that ensures knowledge, reading and vocabulary are central to the learning process. As a school we continue to strive to produce secondary school ready and life-long resilient learners through our curriculum offer which serves to: Enrich, Excite, Engage and Equip all children with deep learning experiences.
Our Pledge: All staff and children must be able to articulate and promote the mission. This Intent must underpin all planning, subject mapping, and lessons. Our Curriculum Mission will be at the core of our school and further strengthen on our school motto of:
Achievement Bravery Compassion
Broadening the Curriculum
Ensuring the Curriculum is as broad, deep and ambitious as the National Curriculum
The HDPS 5 E curriculum uses the Early Years Foundation Stage Curriculum in Reception and the National Curriculum in Key Stage 1 and 2 as its foundation. The children in ARPS Classes with SEND have an individualised curriculum highly adapted to their needs.
We have designed and implemented our curriculum around quality texts and topics which link to statutory curriculum expectations, and also excite and engage children. Teachers use creative teaching approaches to deliver high quality and enriching learning experiences. The sequences include cross-curricular links so that quality literature and knowledge based learning is at the heart of our curriculum. This has been developed and sequenced through our subject progression documentation.
Our Curriculum policy clearly outlines the intent for all subjects, how we will implement them, and how we will measure the impact. Further information can be viewed on the individual subject pages on the left-hand side of this page.
Identifying What Children Should Know and Be Able to Do
Our progression documentation has been planned to show clearly the journey of learning that a child makes from EYFS, through Key Stage 1 and into Key Stage 2. This journey enables both teachers and children to understand the sequence of their learning and how what they are doing now builds on what they have already learnt, and will feed into what they will need to know. Building vocabulary is a key part of learning and is built on throughout the child's time at HDPS to equip them for future learning.
Subject Curriculum Overviews and Progression of Skills documents available under the separate subject tabs. These can be found by selecting 'Subjects' on the left-hand-side of this page.
Using Assessment
Addressing the gaps in children's knowledge
We measure the impact of learning through both formative and summative assessment. At the start of each lesson we adopt the "remembering process" including revision of prior learning and vocabulary, and key vocabulary for the upcoming lesson. Children deposit into their knowledge bank. At the end of the session children are quizzed informally through an activity or game to ensure the knowledge has been retained and remembered. All foundation subjects are assessed using the Milestones for the end of each phase of learning (Foundation Stage Early Learning Goals in EYFS and Langley Park Learning Trust Milestones for end of phases). These milestones are carefully woven into our progression documents so that they can be assessed, and gaps be identified and filled where relevant.
Subject Milestones are available under the separate subject tabs. These can be found by selecting subjects on the left-hand side of this page.
Identifying the Important Knowledge and Planning How It Is Sequenced
We build on our progression documents by planning in sequences of lessons within each topic area. By following the progression documents, subject leaders have built a sequence of lessons for each specific topic or area. We organise the learning into key vocabulary, key knowledge and key skills and ensure that milestones will be met through this. Important knowledge, skills and vocabulary are shared with parents and carers termly to enable them to support the learning.
Curriculum Maps
Year group curriculum maps can be found by selecting the 'Curriculum Maps' tab on the left-hand side of this page.
Reading at HDPS
Developing an appropriate, effective way of teaching reading at HDPS
At Hawes Down Primary School we believe that reading is a fundamental life skill and, therefore, the key to all learning. By the end of their Hawes Down journey, we are proud that our children enter the next step of their education as enthusiastic and critical readers of stories, poetry and drama, as well as non-fiction and media text. Reading is a valuable and rewarding aspect of the children's learning and consequently opens the door to a world of knowledge, creativity and imagination.
The implementation of reading at Hawes Down Primary School begins with the teaching of phonics in EYFS (following the Letters and Sounds programme) and these are built on with word recognition and further reading strategies. Further details of our systematic approach to teaching reading can be seen in the document "Provision of reading at Hawes Down Primary School".